The initial 2016 High Prevalence mailout for the time frame December 2015 – March 2016 has been carried out. The mailout was being sent to 459 suppliers compared to 436 for the same period last year, 602 in 2014 and 536 in 2013.
One factor contributing to the increased number of notifications compared to last season was the accelerated kill in the early part of the season with suppliers processing stock that may have come forward later with Ovis. An indication if the early kill is contributing to the increase in HP letters will be seen in subsequent mailouts.
In the North Island, as in recent years for the initial mailout, the Ruapehu region received the most notifications with 35, compared to 26 for the same period in 2015 and 29 for 2014. Gisborne had 34 up from 22 for the same period last year and 29 in 2014. Tararua also had an increase to 28 from 25 last year.
In the South Island, Southland had 20 notifications, the same as last year for this period. Hurunui had 15 letters down from 22 last season while Central Otago also had 15 up from 11 last year.
Two regions of interest, Marlborough and Tasman, both with large increases in notifications last year received fewer notifications than for the same period last season with Marlborough receiving 13 letters against 16 last year and eight in 2014. Tasman received nine letters down from 19 last year and 10 in 2014. Their notification figures will be watched with interest as the season progresses.
High Prevalence Supplier Mailouts – North Island
High Prevalence Supplier Mailouts – South Island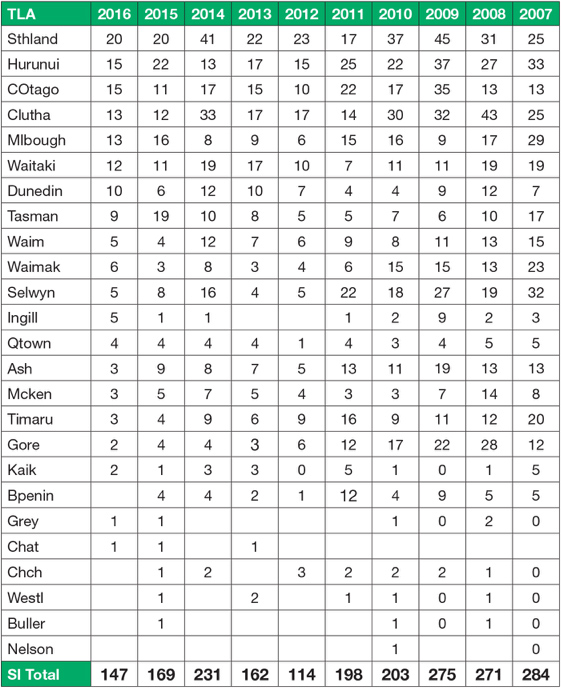 High Prevalence Supplier Mailouts – South Island
Lamb Prevalence
As always lamb prevalence is the key indicator of farmer behaviour in controlling sheep measles. Overall lamb prevalence for the current processing season, October 2015 to May 2016, was 0.52%. This is the same as that for 2014-15 October to May period and slightly down on the 0.53% for the same timeframe in 2013-14.
In recent months however, the South Island prevalence is ahead of previous seasons. One contributing factor is the number of high prevalence lines coming forward from the four neighbouring storm farms The impact of the storm line in the North Island is seen in that island's prevalence which is also ahead of last season.