1. Introduction
The second-High Prevalence mailout for this current season (OML season is from December to the end of November the following year) was sent in late August. In this mailout 280 suppliers were contacted (2015: 342, 2014: 312: 2013; 346). This combined with the 459 suppliers from the April mailout has seen 739 suppliers contacted for high prevalence compared to 778 for the same time last year a 6.2% reduction and down from 914 in 2014 (2013; 882; 2012; 771, 2011; 814, 2010; 823, 2009; 973).

2. Thresholds
As for previous mailouts the national prevalence is taken for the period 1 December 2015 to 31 July 2016. Suppliers contacted in the earlier April mailout are not included in this mailout. The national prevalence for this mailout period was 0.46%, (2015; 0.44%, 2014; 0.47%, 2013; 0.47%,.
3. Summary – North Island
This July mailout combined with that of March totaling 738 notifications represents the lowest number of suppliers notified in these first two mailouts of the year. The increase in TLA prevalence is reflected with an increase in letters to the Taranaki districts with Stratford, New Plymouth and South Taranaki all having increases in letters. Gisborne has increased from the 53 for this period last year to 73 HP letters. Ruapehu has maintained the level similar to last year with 47 notifications (2015; 49) but remains ahead of the 38 in 2014 and 32 in 2013. A sustained drop in letters to Central Hawkes Bays with 27 letters compared to 38 last year and 45 the year before has been maintained while Tararua has stayed on a par with 43 YTD compared to 41 last year and 45 and 58 respectively the previous years. Hastings has also had a reduction from 2013. Manawatu 34 is reduced from 2015's 48 while Whanganui with 20 continues the decrease seen since a peak in 2013 of 41.


4. Summary – South Island
In the South Island Southland exceeded the number of letters sent for the same time period with 33 compared to 27 in 2015 but still down from the 52 in 2014. Central Otago with 22 up from 16 and Dunedin 14 letters up from 11 last year are the only areas with increases of note. Marlborough with 26 letters is down from the 30 for last year but still higher than recent years reflecting the increase in prevalence seen last year. Tasman is similar with 14 notifications compared to 24 last year a drop of 42%. Hurunui, meanwhile has had a drop of 38% from 31 notifications last year to 19 this year the lowest seen in ten years although some consideration must be given to the fact that many farms are carrying low stock numbers due to drought conditions, lamb kill numbers for the region are 24% below that of last year for the December – July period. Areas including Ashburton, Selwyn and Gore have continued their low notification levels.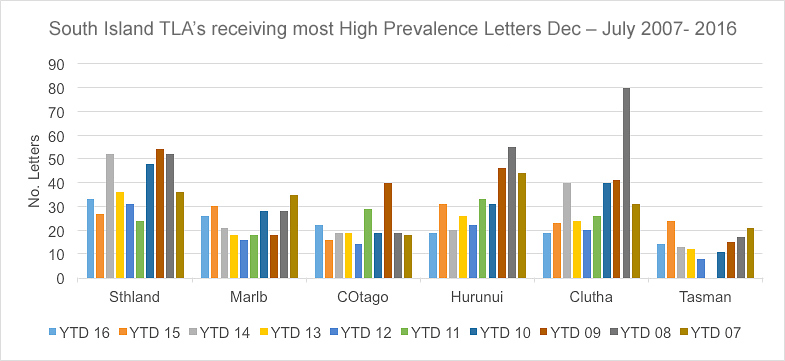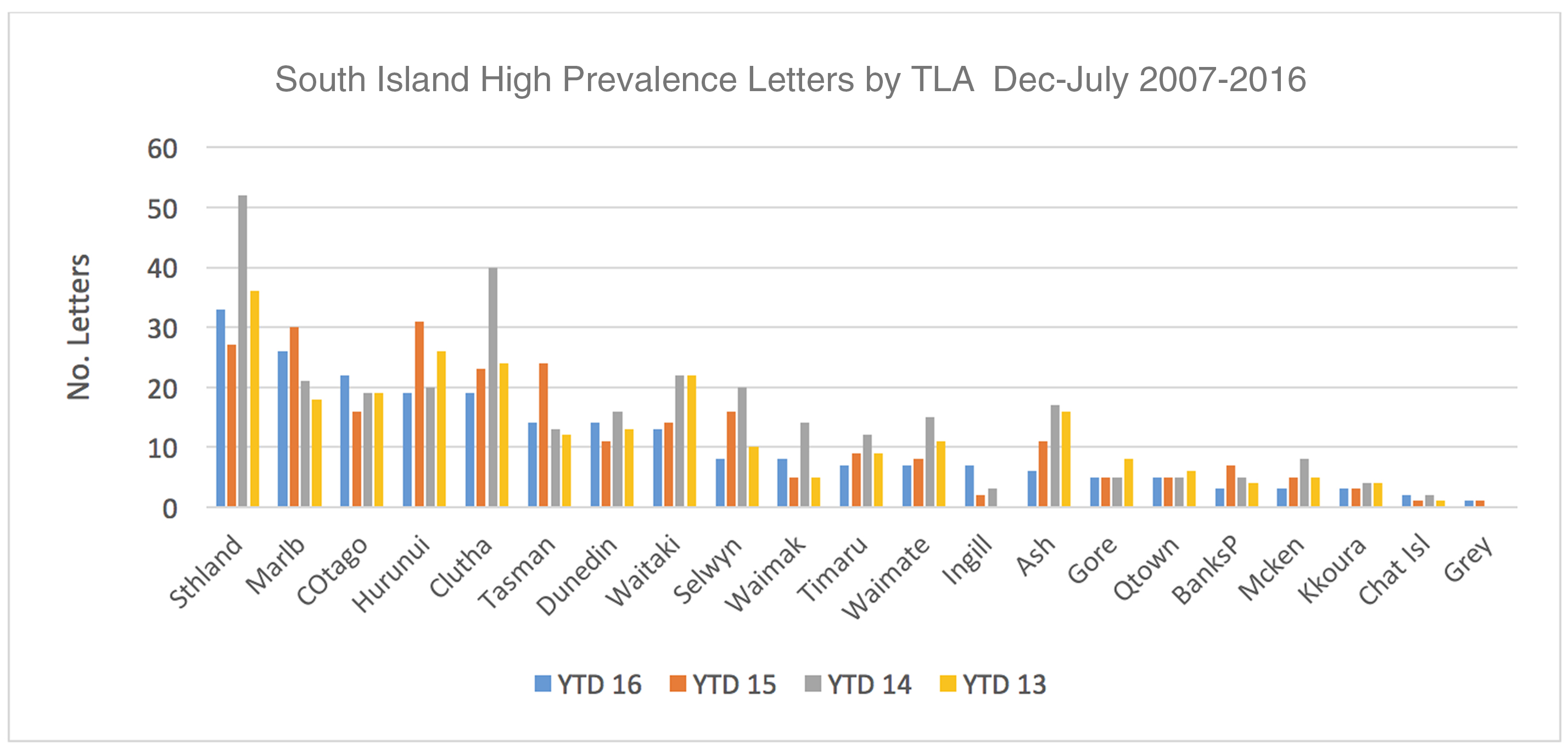 5. High Prevalence Ovis Letters by TLA for Lambs processed 1st December to 31st March
North Island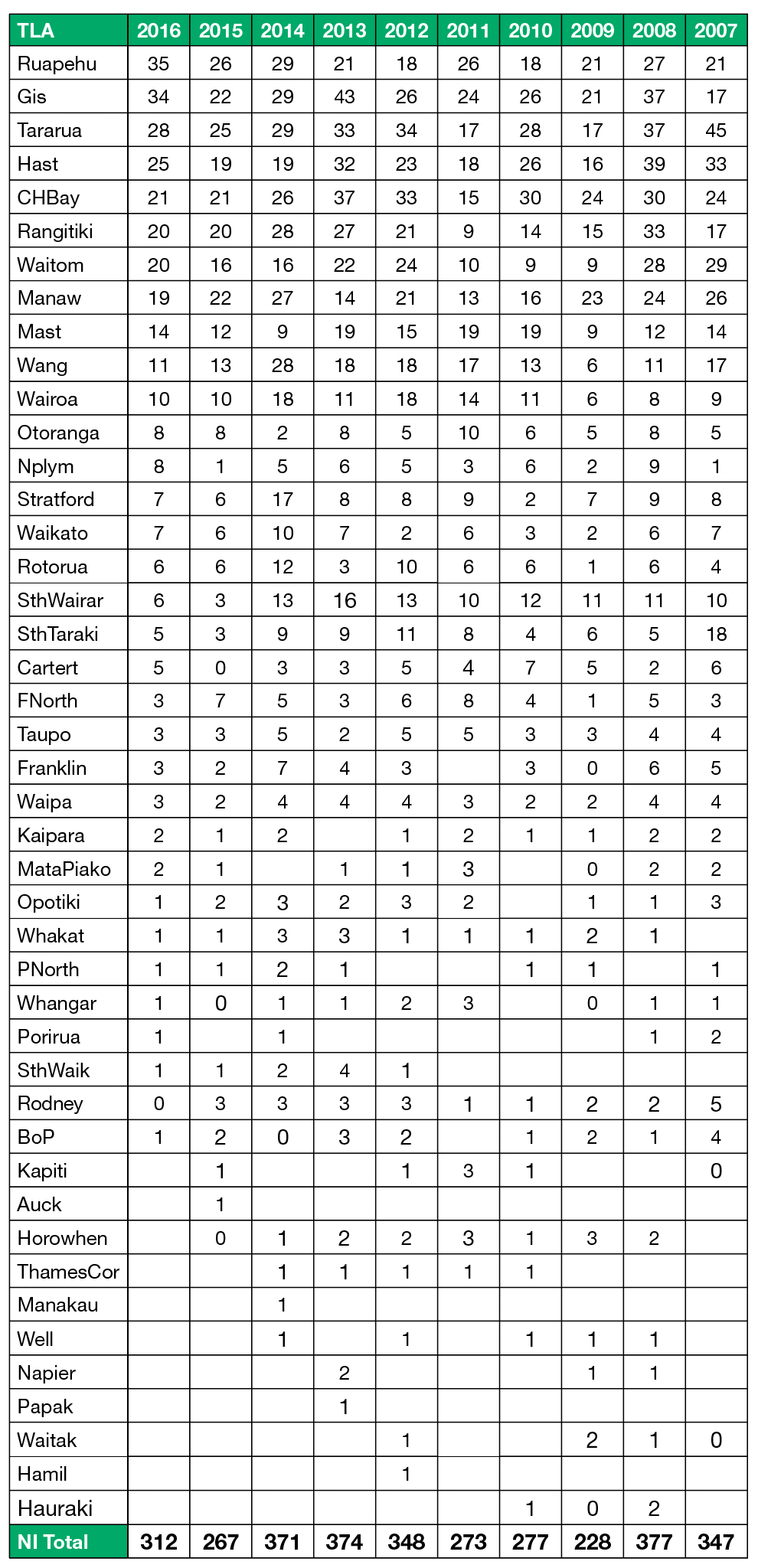 South Island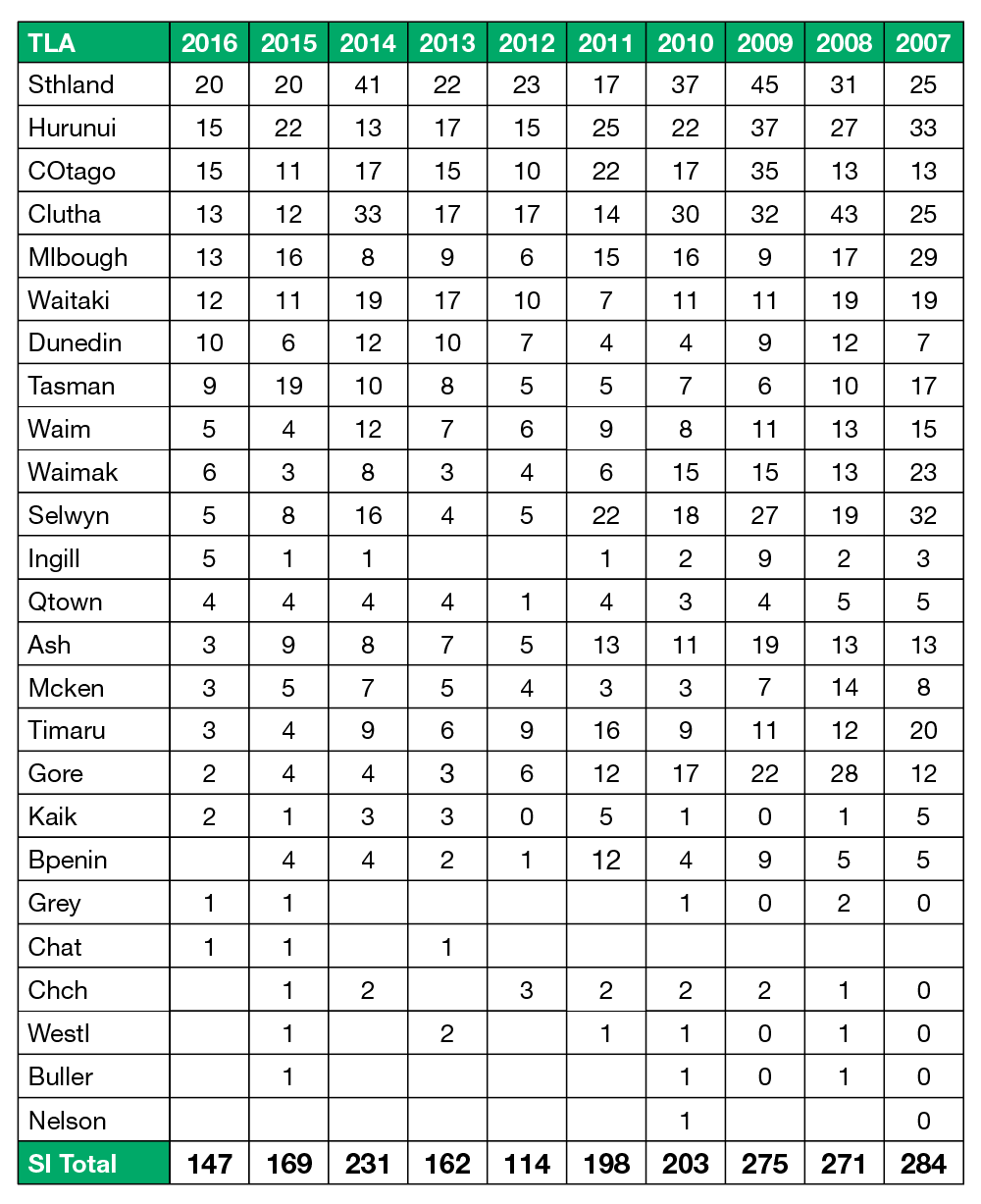 New Zealand Totals

6. End of Season Lamb Prevalence
The lamb prevalence data for the completed processing season October 2015 – September 2016 is 0.64%. This is equal second lowest since inclusion of viscera data in 2008, Fig 4.
The figure was boosted by a number of large storm lines originating from the South Island property contributing 1,653 infected lambs. Last year's winter kill (2015) had no significant storm lines resulting in low prevalence as seen in Fig. 3.
Fig 1.
Fig 2. North / South Island Prevalence
Fig 3.
Fig. 4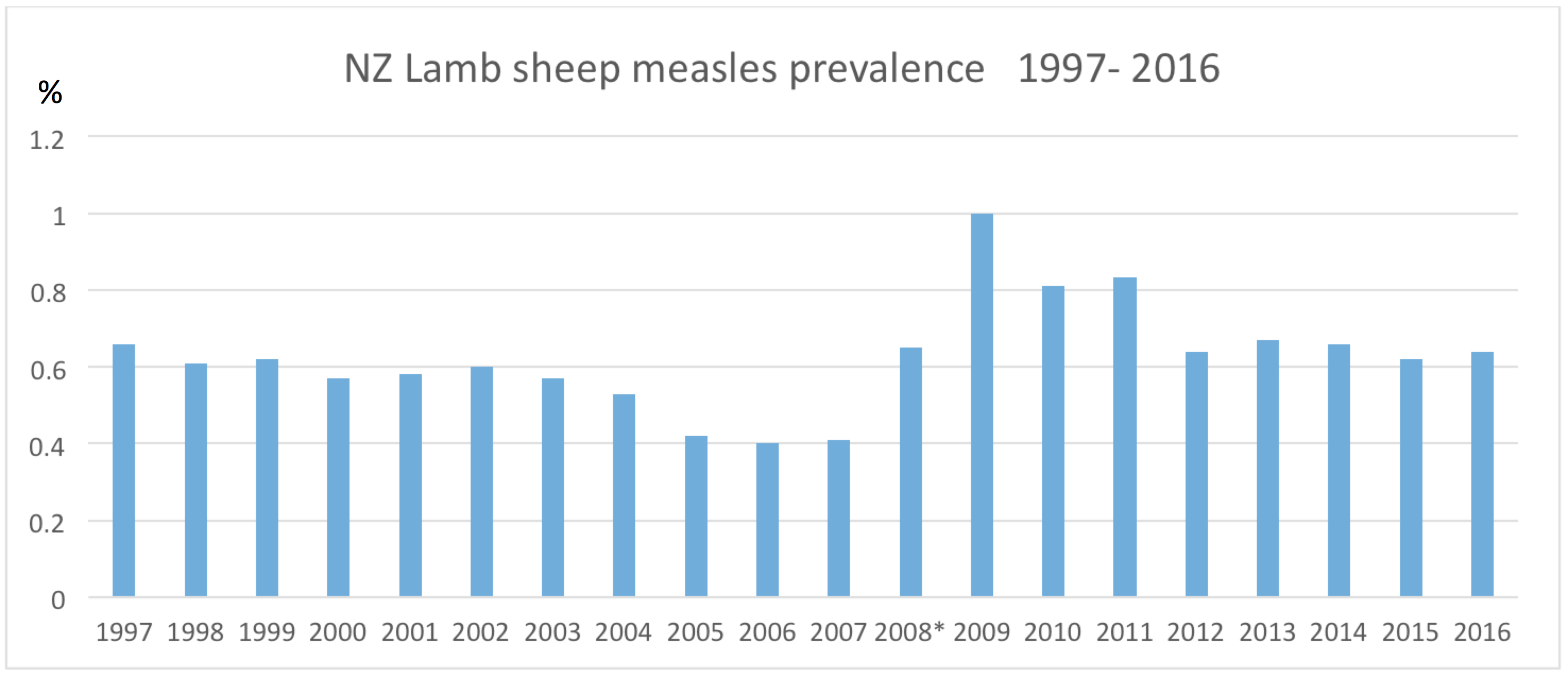 Want more information contact:
Dan Lynch
Project Manager
Phone: 0800 222 011
Email covis@xtra.co.nz
www.sheepmeasles.co.nz